DESTINATION GUIDES
With so many places to go and only 365 days in a year, when it comes to choosing your next holiday destination, there's just no compromise on getting it right.

Get it right with Freedom Travel Holidays browse our endless destination guide's here ....

USA: Universal Studios
Universal Studios has expanded rapidly in recent times, it now boasts two major theme parks, a village and entertainment complex, and three resorts. Universal Studios Florida, Islands of Adventure, and Universal CityWalk present a formidable reason to spend some time away from Disney World.
Tackling the park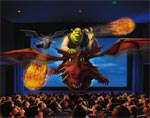 The busiest times to visit Universal Studios are the same as at Walt Disney World. Generally, you will find that weekends are usually quieter than weekdays. You should allow no less than two full days to explore the whole of the parks. The queues at Universal can be even longer than at Walt Disney. It is essential to arrive at the gates an hour before the official opening if you want to get round everything. Furthermore, aim to approach the most popular rides first. On a very busy day you might like to consider investing in the five hour VIP Tour. This provides priority admission to at least eight of the most popular attractions, as well as a walk around backstage areas and access to production facilities and sound stages. If you stay at one of Universal's resorts, you can use your room key as an express pass, giving you priority seating for many attractions and as a credit card throughout the park.
Top 10 Universal Attractions
Terminator 2: 3-D
Jaws
ET
Shrek 4-D
The Blues Brother
Revenge of the Mummy
Twister... Ride It Out
Men in Black – Alien Attack
Back to the Future... The Ride
Earthquake